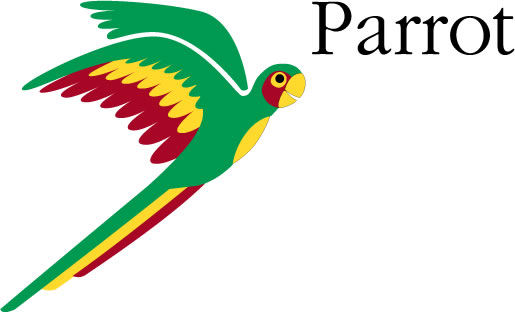 Parrot AR.Drone 2.0 Power Edition WiFi Quadrocopter
s
Stronger and more beautiful: the Parrot AR.Drone 2.0 Power Edition with a new look and power batteries
Experience the limited AR.Drone 2.0 Power Edition in exceptional design and extra accessories! Thanks to covers in matt black and propeller in 3 different colors, the drone can be customized. With the two new power battery, you can enjoy up to 36 minutes flight time!
The strictly limited Power Edition includes the following additional content:
AR.Drone 2.0 with indoor and outdoor shell casing in new, black design
2 extra powerful 1,500 mAh battery power, allow a flight time of up to 36 minutes
3 extra propeller sets in three new colors: red, orange and turquoise. Together with the propeller black
(Also included) allows the AR.Drone individually designed in color!
Tool to change the propeller
Intuitively
Get AR.FreeFlight 2.0, free from the App Store or Google Play, and you're ready. If tilting your device, you can control the direction of the AR.Drone and stabilize them by releasing immediately.
Record and share in HD
During the flight directly HD Videos are recorded and sent to your device. And with one click you can post directly to YouTube or share your photos on Picasa your video on the user-friendly interface. With the new app, it's easy and it wirelessly. For all users who want to record longer videos, a USB plug-in to store larger images has been added.
Fly like a pro
With the autopilot function of the AR.Drone everyone can fly like a pro. The embedded sensors allow smooth takeoffs and landings. In addition, the new AR.Drone 2.0 has an exclusive and patent-pending "Absolute Control" flight mode for beginners which can be adjusted with increasing flight skills.
More to explore
AR.Drone 2.0 establishes a Wi-Fi N connection with which you can fly up to 50 meters wide. Pressure sensors on the aircraft provide stable flight and correct its position in the air regardless of the level and also at wind speeds of up to about 24 km / h so that a smooth flight is possible.
Become part of a community air
Track your flight dates, places, photos and videos and share them with other pilots around the world - all with the AR.Drone Academy. You can see who flies in your area or watch videos of pilots at the other end of the world.
Aerobatics
And it's only when AR.Drone 2.0: Simply by pressing a button you will become a daring pilot and fly a flying roll around its own axis.
Indoor and Outdoor Covers
Through a full sleeve protects the AR.Drone from impacts that occur during wild air battles with enemies who are hiding somewhere in the house. The colored casing is aerodynamically, allowing better control outside.
High durability and easy repair
The AR.Drone is made of carbon fiber and resistant PA66 plastic. All parts are interchangeable, thereby facilitating the repair.
Augmented Reality
You can see not only on the front camera, what the AR.Drone sees, but also play many games in augmented reality. AR.Games there in the App Store or Google Play. Choose between single player and multiplayer mode and use the camera while the AR.Drone and the programs for augmented reality. Eliminate all your enemies or other drones.
Highlights:
Quadrocopter controlled by smartphone or tablet
During the flight photos and record videos in HD quality
Share videos and photos to YouTube and Picasa
Interchangeable Covers for indoors and outdoors
Fly and battle with other Drone users via a Wi-Fi network
AR.FreeFlight app with intuitive controls
Δείτε τα VIDEO

211 800 1333